Clara Playground Committee
Chronology

October 2010..Public meeting to gauge level of public interest for Clara to participate in the " Building Healthy Communities'" initiative run by Offaly Local Development Company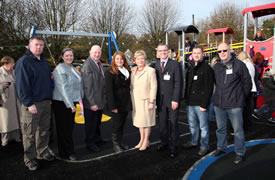 October 2010..Initial group of volunteers worked with Steve O'Donoghue, OLDC to draft an outline plan

November –December 2010...Key first step involved consultation process across the whole community based on comprehensive questionnaire delivered "door to door"

Jan -Mar 2011..Collection and analysis of feedback presented to 2nd public meeting leading to establishment to several Task Groups to work on specific actions identified by the Community. Under the heading "Children & Youth" the provision of a playground headed list.

April 2011...Inaugural meeting of Clara Playground Group to tackle 2 huge challenges i.e. find a suitable site at zero cost and raise 25% of the planned budget

November 2011..Following a detailed assessment of three sites that had been short listed it was agreed to locate the playground beside the local swimming pool based on a positive response from the Clara & District Recreation Association Ltd.

Jan-April 2012...Fact finding about playground design coupled with sessions with children in school to provide feedback about equipment type

May 2012...Fund raising highlight involving a pitch and putt match play challenge between two local sporting hero's Shane Lowry, winner of the Irish Open as an amateur, and Tracy McGrath, Irish Pitch & Putt Champion. The event took plan in the local Erry Pitch and Putt club and provide a much needed boost to our fund raising efforts

June 2012...Significant boost to the fund raising effort with a very generous donation from one of the key employers in Clara, Steripack

June 2012...Engagement of Kenny Lyons, Architects as professional support for delivering the project including final design, planning application, tender process and project completion

September 2012...Planning Permission received from Offaly County Council

October 2012...Following completion of an e-tender process it was determined that the proposal from Cavanagh Playgrounds was the most economically advantageous tender.